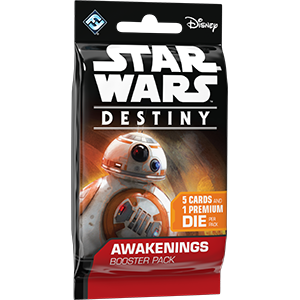 Product Description
Edit
Customize your decks and enter the game at your own pace through Awakenings Booster Packs for Star Wars™: Destiny! An array of characters that spans the saga from The Phantom Menace to The Force Awakens gives you the freedom to play out any battle you can imagine in Star Wars: Destiny, and with Awakenings Booster Packs, you can supplement your collection of cards and unlock new types of decks.
Every booster pack includes five randomized cards and one premium die, broken down into three common cards, one uncommon card, and one rare or legendary card with a corresponding die. All cards that feature a corresponding die are either rare or legendary cards. With every booster pack, you'll find new characters, supports, upgrades, or events, along with new ways to enter the Star Wars galaxy and fight for your chosen side!
Contents
Edit
Card Numbered 1-67 (x1)
Card Numbered 68-174 (x4)
Ad blocker interference detected!
Wikia is a free-to-use site that makes money from advertising. We have a modified experience for viewers using ad blockers

Wikia is not accessible if you've made further modifications. Remove the custom ad blocker rule(s) and the page will load as expected.